The Whisky Wedding a Mr. Darcy and Elizabeth Bennet story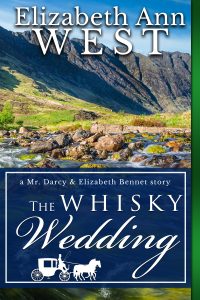 The Whisky Wedding. 530 pages. Stand-alone Pride and Prejudice Variation novel.
When Elizabeth Bennet rushes to Scotland to save Lydia from Mr. Wickham, a carriage accident lands her in the care of Mr. Darcy. Pushing their misunderstanding aside, it is Mr. Darcy and Elizabeth who marry over the anvil! But when she wakes up her first morning as Mrs. Darcy, Elizabeth has no idea where she is or how she came to be in a bed with Fitzwilliam Darcy!
Described by readers as a fun, original plot that brings a touch of Vegas-style comedy to Jane Austen's classic tale of matrimonial mayhem.